Clerk.io
makes your customers buy more, by personalising and automating the products you show.
Among other features, the system allows you to include dynamic product recommendations in your email campaigns, which are tailored to your message and personalised for each recipient, based on their purchase history.
With our Audience feature, you can even segment your customers based on their behaviour in the shop, ranging from where they are in their lifetime, to whether they have shown an interest in specific products. This allows you to target customers much more efficiently.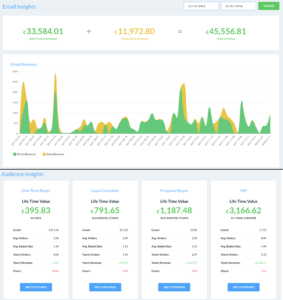 Main benefits
Clerk.io has the following main benefits:
Lets you easily tailor email campaigns through plug-and-play recommendations in MailUp
Increases click-through rates by showing products directly based on each recipients interests
Lets you segment recipients based on their behaviour, making it easy to send targeted campaigns
How to configure MailUp integration
Read the documentation
This description was submitted by the integration's developer. MailUp lists integrations developed by third parties for customer convenience only. We do not offer any support or guarantee on these products. Please contact the developer for any inquiry.