Dynamics 365 Connector with MailUp Marketing Automation Solution
Dynamics 365 + Mailup Connector allows you to use all Dynamics CRM features in order to send email/sms through a MailUp subscription and save statistics inside CRM Database.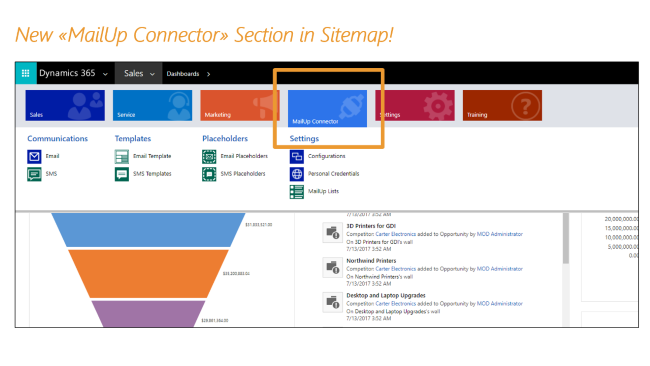 LIGHT FEATURES
(Free)
Edit your Email Templates and SMS templates directly in Dynamics 365
Insert dynamic content directly from your Dynamics database
Send single communications
Track every customer interactions and save statistics into Dynamics 365
PRO FEATURES
(contact
Cluster Reply
for more info)
Automatic Sync for Customer Data, Statistics and Un-Subscriptions
Create Campaign On Dynamics 365 and send them through MailUp Platforms
Customer data sync
Software Updates
Manuals and dedicated support
Monthly Newsletter
About Cluster Reply
Cluster Reply is the company in the Reply group specialized in consulting and system integration services based on Microsoft technologies. The company is focused on innovation and has followed the evolution of Microsoft offering from on-premises to cloud, in the areas of Application Development, Core Infrastructure, Collaboration, Data and Analytics, The Internet of Things, CRM and ERP, and Managed Services. The strong experience, matured in 20 years of collaboration with Microsoft in Italy, enables Cluster Reply to help their customers in choosing the best solutions from Microsoft, quickly and effectively, adding to 17 Microsoft certified competencies, a distinctive knowledge of market industries and processes.
This description was submitted by the integration's developer. MailUp lists integrations developed by third parties for customer convenience only. We do not offer any support or guarantee on these products. Please contact the developer for any inquiry.