Integrate Facebook and any other lead generation source with MailUp in real-time. Sync your lists or groups with Facebook custom audiences to retarget, upsell or exclude them from your offers.
LeadsBridge is the go-to marketing automation platform for lead generation.
Key features
Solve the Facebook Lead Ads automation flow with MailUp
Automatically retarget people on Facebook from your MailUp lists
Synchronize actual conversions with Facebook for better tracking
Distribute your leads from any source to multiple destinations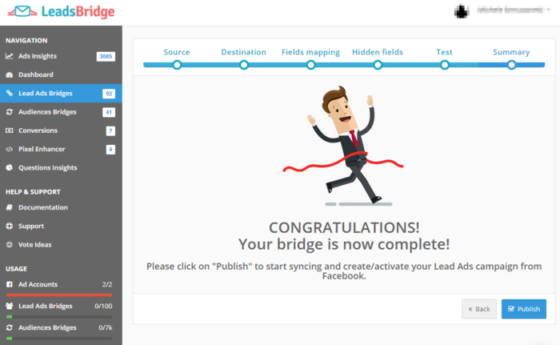 LeadsBridge integrates over 190 solutions and provides a top-notch support service to help marketers avoid any flow interruption.
How to configure MailUp integration
Read documentation
This description was submitted by the integration's developer. MailUp lists integrations developed by third parties for customer convenience only. We do not offer any support or guarantee on these products. Please contact the developer for any inquiry.