The MailUp App for Shopify makes it easy for users of the popular Shopify ecommerce platform to take advantage all of the powerful email marketing tools built into MailUp.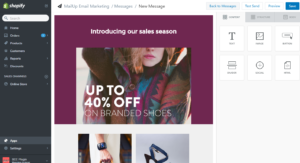 Once the App has been installed, customer and order data flows automatically from the store into MailUp. With this data, MailUp's triggered messages features can be used to automatically run marketing campaigns such as:
Sending a "Thank You" message with a coupon 30 days after the purchase date
Sending a cross-selling message based on the product IDs that have been purchased
Sending a special reward (e.g. a gift certificate) to customers that have passed a certain amount of total $ ordered
… and much more
The latest version of the app also allows merchants to create and send to their customers beautiful emails, right from their store's admin panel and without entering MailUp's control panel.
And – best of all – the MailUp App for Shopify is completely free of charge for MailUp users. If you are a Shopify merchant, sign up for a free trial and you'll be able to test the integration between the two systems free of charge, with minimal effort.
Additional info